I dag afrundes årets vinterjazzfestival med de sidste koncerter rundt om i landet efter en måned med musikalske tilbud inden for et væld af stilarter og temaer. Blandt disse har været koncerter med jazzens store orkestre såsom Fire! Orchestra, DR Big Band, Maluba orchestra, Kathrine Windfeld Big Band, Blood Sweat Drum and Bass, A Very Big Band, Monday Night Big Band og ikke at forglemme det fremragende Aarhus Jazz Orchestra, der i de senere år har stået for en række nytænkende bigbandprojekter...


Source:
"Politiken Kultur", Denmark, February 25, 2018
-----
Julen kom med jazzet julemusik

Billetterne var revet væk til koncert i Bagsværd Kirke

Ikke alle kom ind i det forjættede land, da der i søndags var koncert i Bagsværd Kirke. 1.søndag i advent blev markeret med stor intensitet i Bagsværd Kirke. Et fyldt kirkerum med over 250 gæster var samlet om en julekoncert af den mere spektakulære slags. Mange måtte opgive at få billet, for de var hurtigt revet væk. Gladsaxe Folkekor og Gladsaxe Jazzklub havde endnu engang fundet sammen i et fornemt samarbejde om et musikalsk initiativ, en julekoncert med bigband og korsang. Og Bagsværd Kirke havde beredvilligt stillet det unikke kirkerum til rådighed. Arkitekt Jørn Utzons smukke kirkerum bestod søndag eftermiddag den akustiske test med korets fyrre sangere og bigbandets atten musikere.

Julekoncertens dirigenter, Christian Dahlberg og Ole Kock Hansen, havde i mange uger op til koncerten arbejdet hårdt med de skrevne arrangementer. 24 indslag var blevet forberedt. Koncertens store oplevelse var så ubetinget sangeren, Bobo Moreno. Endnu engang blev det dokumenteret, at denne alsidige sanger hører til landets bedste.

Med stående applaus ved afslutningen af koncerten sendte publikum samtidig et tydeligt signal til arrangørerne om, at 1. søndag i advent godt måtte blive en tilbagevendende begivenhed, og gerne med jazzificeret julemusik.


Source:
"Gladsaxebladet.dk" (Julen kom med jazzet julemusik, Denmark, November 29, 2016)
-----
..."While the concert with Koppel and friends provided a gentle introduction for those not normally accustomed to jazz, the big band concert with Ole Kock Hansen's A Very Big Band provided an excellent entry into the genre of the big band.

The concert featured three guest stars: drummer Alex Riel, saxophonist Benjamin Koppel and singer Marie Carmen Koppel and they all contributed significantly: Riel with his propulsive swinging that made the big band light as a feather, Koppel with his narrative solos, and Marie Carmen Koppel lifted the room with her soulful voice and gospel phrasings.

The sound was excellent and the repertoire was diverse, encompassing everything from big band classics like Thad Jones "Big Dipper," the standard "Angel Eyes" and more modern pieces like Nat Adderley's "Work Song. It was a set list that allowed Koppel to pay homage to some of his heroes, like saxophonists Johnny Hodges and Phil Woods, whose beautiful "Julian" was a highlight of the concert."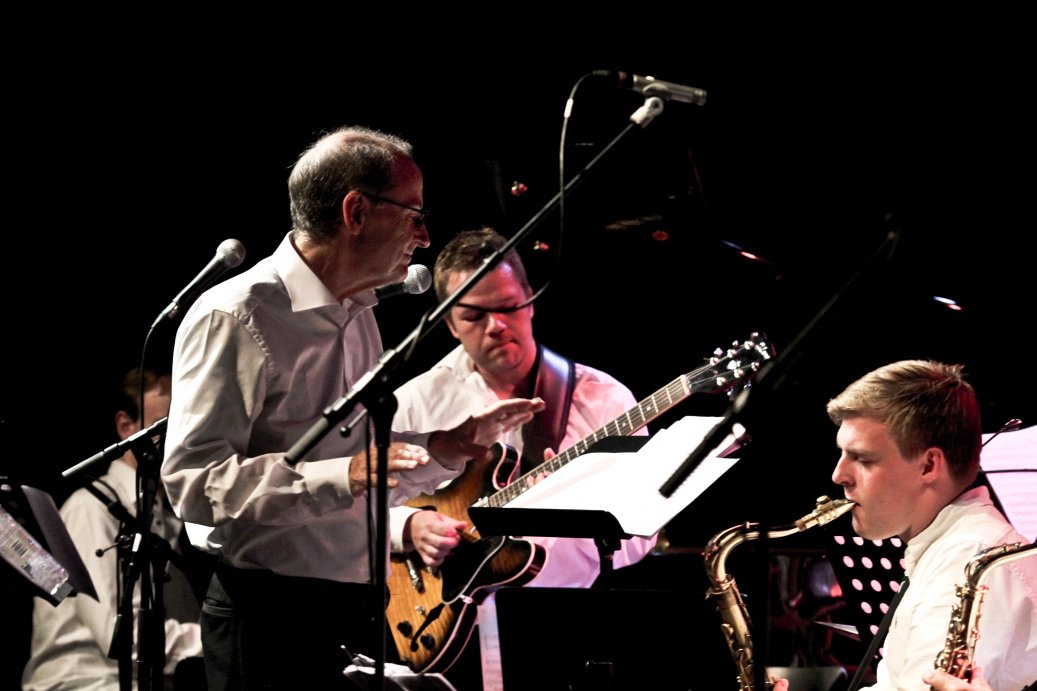 When sister Marie Carmen Koppel entered the stage, the direction changed from jazz to pop and soul, and the singer gave convincing interpretations of soul classics from Marvin Gaye and Donny Hathaway. When it all ended with a gospel tune, the audience completed a journey that had begun in the earliest years of big band, moved through modern jazz and pop, and ended where it all began: with the gospel songs in church."
Source:
"allaboutjazz.com" (Valby Summer Jazz: Copenhagen, Denmark, July 6-13, 2013)